Don't Just Take Our Word For It
Hear from the community of people whose lives changed after using INNOVO.
LIFE CHANGING RESULTS
What People Are Saying
About INNOVO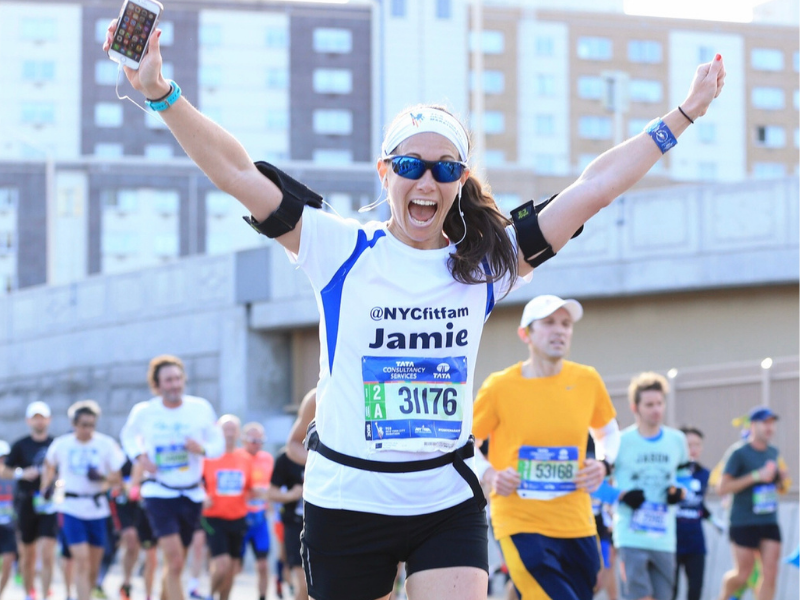 JAMIE HESS
"I am one of the 87% of women who are now leak-free thanks to INNOVO. I can run again, without experiencing leaks."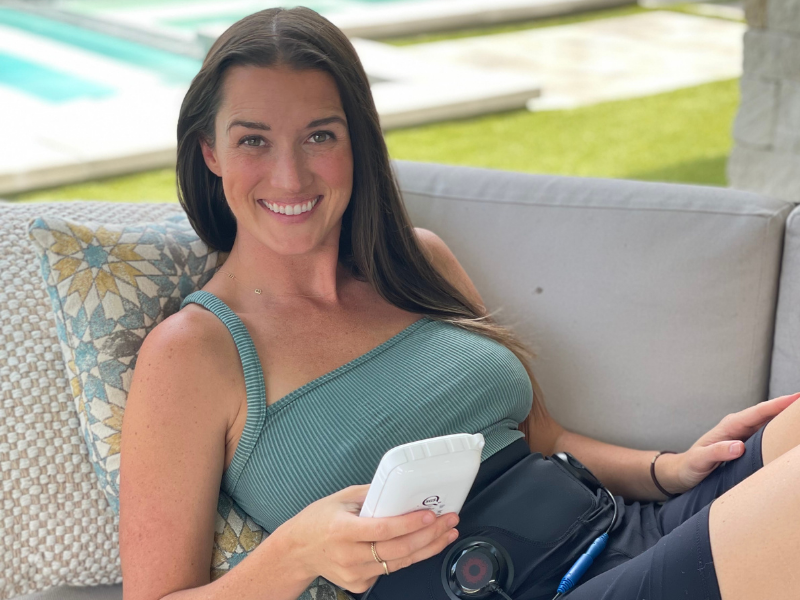 JADE ROPER
"Now I know what a proper Kegel should feel like! I can't wait to get back to running, jumping on the trampoline with my kids and enjoying big belly laughs without having to worry about unexpected leaks ruining the fun."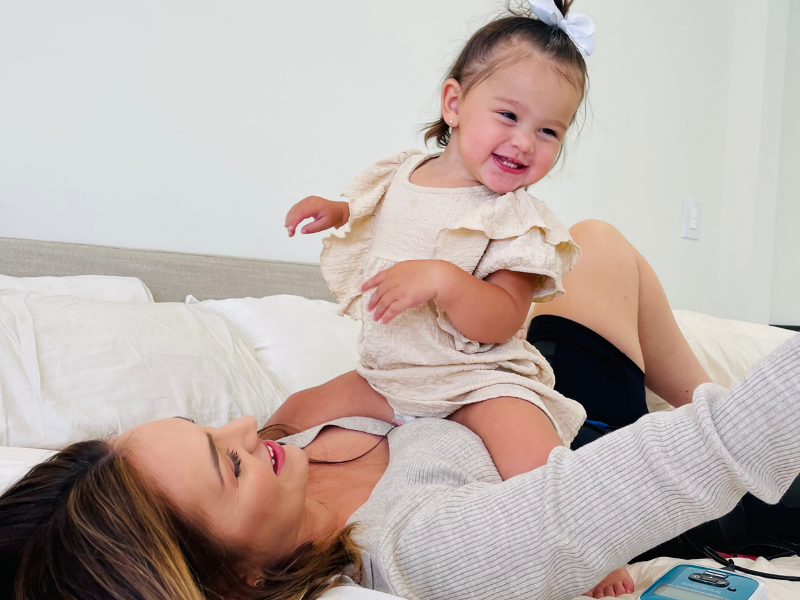 TAYLOR SELFRIDGE
"I can't wait to play with Mila with no worries of unexpected leaks!"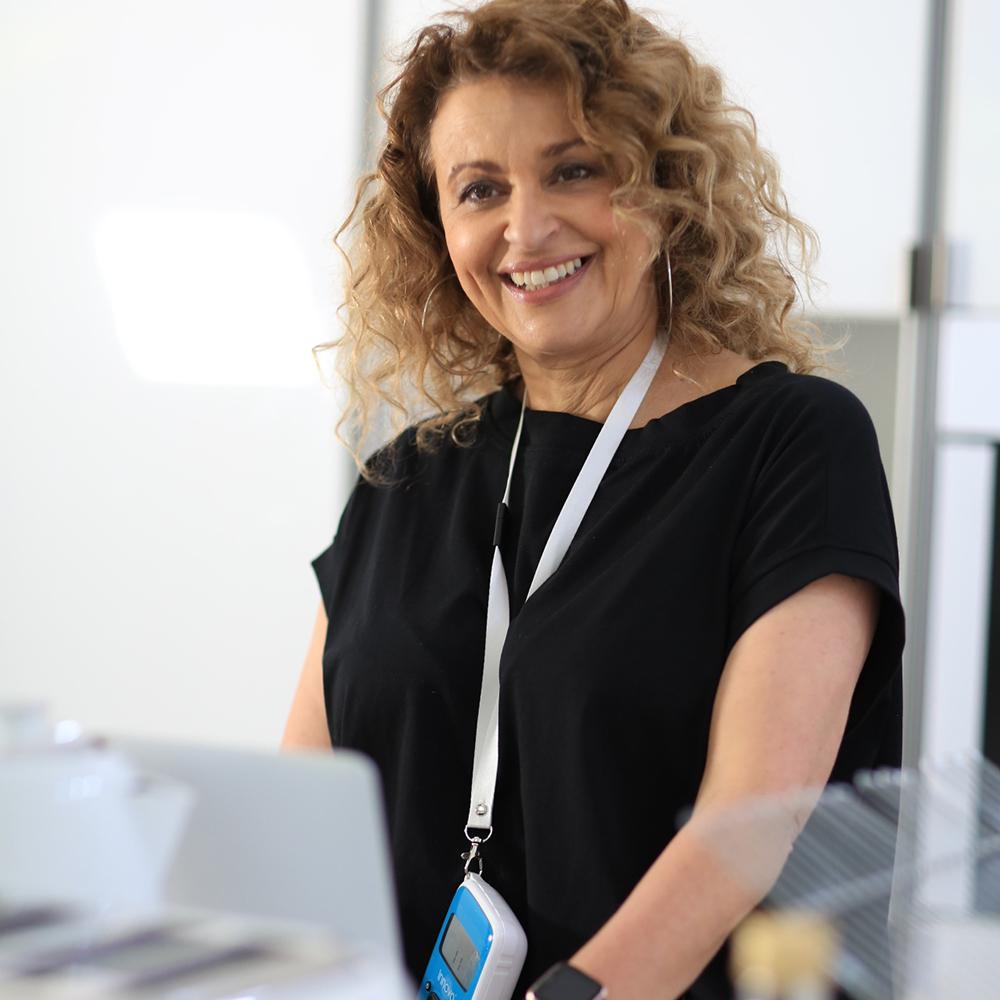 Nadia Sawalha
"A friend suggested I try INNOVO, which treats the cause and helps to contract the pelvic floor. It's quite a powerful sensation as you can literally feel your pelvic floor lift up! It makes you feel amazing. After using it for four weeks, I noticed a huge improvement, and after 8-10 weeks, I felt like I had the pelvic floor that I had pre-children and menopause."

Shop INNOVO Today →
Work Wonders

"I am delighted with the Innovo shorts. After giving birth to 2 babies and not really listening to midwifes advice on working pelvic floor, I am/was struggling with holding the urge to rush to the toilet. I am on my week 4 of using this great shorts . I've been using them 5 days a week for 30 min as recommended. It has made such a difference already!! I don't need to panic anymore that I want manage to get to ladies room before having an accident. It has worked beautifully on my pelvic floor, I can cough, sneeze and laugh without peeing myself. The monitor is easy and simple to use plus there is a video that you can watch and it will take you step by step. Make sure you use enough spray , otherwise you might get a little shock. Every evening I make myself comfortable on the sofa, watching TV while the shorts make wonders. My size 9 shorts fit me perfectly and I'm size 16/18 . Thank you Innovo , I'm looking forward to complete the program."

Was Sceptical But Really Works!!!

"I bought this and having been using it 6 weeks now and I must admit I was sceptical at first but it does really work I've noticed a massive difference in 6 weeks which is unreal as I do pelvic floor exercises at home have done since having my daughter years ago and nothing else has worked so far. So the innovo shorts come in the box with the The Instructions manual which isn't just a small leaflet it's very detailed, such a great help if u struggle setting things up and the spray and charger and shorts along with the quick start guide which is great. Anyway iv been using these shorts for 6 weeks for 30 minutes a day 5 days a week and I usually use it whilst reading or standing although I would say they recommend standing but anyway these shorts have worked great for me in space of 6 weeks and I'm still using them, I had problems with leaking when coughing sneezing even laughing had to wear pads practically every day now I don't I do still carry panty liners incase of an emergency but I can't say how happy and relived I am to eventually find something that actually work so if u get the change buy these pants there Amazing and well worth the money!!"

Its helping a great deal!

"Innovo is uncomfortable to start with. You're advised to start off slowly and build up over a few sessions while you get used it. When you first start, it really hurts a tad and you wonder how you'll ever progress, but you do quickly adjust. Just play with upping the pulse bit by bit and you will get there in the end, been using it a few weeks so far but already I am going to stick my neck out and say yes, Innovo does work, its helping me a great deal!"

Works Well

"Got this to try as I had started to leak and was hoping that it would help, on arrival took the items out of the box on looking at the shorts I didn't think that I would get them on but I did. Once I charged the machine up then hooked everything up and switched on the machine to level 2 I felt tingling in my legs and across the bottom of my buttocks after a few weeks I have found that this has helped me forgot to say that you have to spray the shorts inside for a few minutes before putting them on I am still using them think they are great"

Miracle Worker!

"I had a weak bladder after three children it's no surprise. I tried all the pelvic floor exercises but struggled to do them and fit them in with my busy lifestyle. I had many embarrassing little accidents when coughing, sneezing or jumping. The only option through the GP was the pelvic floor exercises or surgery. I was so pleased when I discovered Innovo. It was just what I was looking for a non invasive and long lasting solution to bladder weakness. I have used this for the last 12 weeks and have been so impressed with the results. I can now go out without the safety net of a panty liner. I can be caught off guard with a sneeze with no accidents. I have even been to a trampoline park with the children which was the ultimate test. I can now enjoy the simple things in life with confidence that my pelvic floor will remain strong. I quite enjoy putting my shorts on, putting my feet up and relaxing with a book or the telly for 30 mins while the innovo works it's magic. So pleased I discovered this before I considered surgery!"

Laughing Fits No Leaks

"If I'm perfectly honest at first when this arrived I was think what is it haha I tried the shorts on and for a good 30 mins, and just laughed at myself then my daughter then my husband laughed. Anyways back to the review. The innovo does feels a little strange at first, not uncomfortable just a little odd. After getting over that I am happy to say that this does actually work. I used to have little leaks if I coughed or got overly excited laughing and that used to get me very down. 12 weeks in and I am no longer using bladder control pads. On occasion I still have the odd leak but nothing like before. I feel like a new woman, I'm happy to go out now without a pad. I can have laughing episodes, coughing fits and train in the gym with my friends with no fears or worry's that I will leak or that you can see the bladder control pad. I would highly recommend to all ladies in the same position. Thank"

Easy To Use

"After suffering with incontinence following the birth of my 4th child doing pelvic floor exercises were not enough. Innova shorts gave me a new and innovative way to solve my leaky problem.i have been using them for 6 weeks and already have seen improvements , things can only get better. Easy to set up and use. Shorts are comfortable and non invasive. Will be good to get my life and confidence back. Highly recommend."

It Really Does Work!!

"Since my hysterectomy last year, I have been having issues with my bladder, several trips to the toilet during work and in the night along with the odd leak. I have been using these shirts now for a few weeks and I've seen much improvement. They felt a bit strange at first and the sensation whilst they are doing their stuff takes some getting used to but I got used to it soon enough. My leakage problem has dramatically improved and very rarely happens now, trips to the toilet during my shift at work has decreased and I'm only going to the toilet once during the night now too. This has made me feel much more confident and long may it continue."

INNOVO Miracle

"I am so impressed with the whole idea of the INNOVO pelvic floor fitness technology. I have had some issues with my pelvic floor for quite some time but was open minded when I began to use these shorts by Innovo. Seveal weeks down the line and after regular usage I can now say that they really do work and I have had good results for sure! The product comes with every thing I need in a well packed box (shorts, spray, cables, hand controller) and very easy to follow instructions and manual. My shorts were a size 7 and the recommended intensity was a level 58 and I achieved this level quite comfortably. I love that I am in control of the strength of the contractions at all times. If I had to describe it I would say that the 30 minute sessions feel like intervals of child birth contractions (at a much milder level :-) ) and surprisingly feels quite plesent and comfortable after a few uses. The whole procedure is easy to use and understand and really worth the time, effort and the cost but you need to stick to it and use it regularly to see the benefits like I have. I can really feel that my pelvic floor muscles are much stronger now."

Discreet Bladder Control

"Being a woman whos had a child its inevitable the bladder isnt going to be as it was, nor after a few surgeries. Anyways I would highly recommend this product for ladies or men that have any leakage. They are quite expensive but I would say that they are definately worth it if your bladder leakage bothers you like it does me. I have been wearing these shorts for over a months now and they have certainly helped me. The results are fantastic and they are so easy to wear and easy to use once you read the instructions. They tightened my pelvic floor and I certainly have a lot less leakage so I worry less when I need to sneeze or cough."

Feels Very Strange But it Does Work!

"Ok so I wasn't sure what to expect. When i opened the box my first impression was that the kit seemed like fantastic quality! The shorts were maybe a tad to big but I was able to adjust to keep everything in place. Now and again i get some kind of error message but it soon resolves itself with a wiggle of the wires. Follow the instructions don't try and crank up too much too quickly as it can feel quite uncomfortable, you can actually feel muscles reacting strange but i liked that, i wanted to use long enough to give it a chance to work before i left a review...i have to say that it has worked im really pleased and glad i persevered."

WOW

"I have tried everything for bladder weakness. My legs were constantly sore too from the rubbing of liners and pads on my pants. As a plus size lady anyone in my situation would be able to relate. I decided to give these a go after having seen them online. I have been using them now for over 10 weeks and i have to say i have not needed a pad or a liner since! These have literally changed my life. Its not a quick solution but over a period of time it does work and i am so glad that i opted to pay the extra and give these a go. Please dont be put off by the price, when i added up the cost i have saved in liners,pads and pants it more than pays for itself."

Truly Innovative

"These shorts are an incredible development in treating bladder weakness which will be a relief to many, including me. It's a gradual process, but I noticed the difference after only a few weeks. I found them quite awkward to put on at first, not to mention uncomfortable to use, but you become used to it and learn how to feel comfortable with it. It becomes part of a routine, and you can combine it with listening to podcasts or watching telly. It's pretty amazing, cos I presumed this would be something I had to live with, but to have a product like changes all that. It's very expensive however, but it does actually work."

Wonder Shorts!

"So delighted I decided to give these shorts a try, going through the Menopause has left me with a slight bladder weakness and I had been left having to wear panty liners. But not any more, I have been wearing these shorts for about 30 mins over 5 days for the past 12 weeks but after about 4 weeks I started to see real results. I felt them tightening and lifting down below and now when I cough or sneeze there are no embarrassing leaks. After the initial setting up and getting the hang of them they are easy to use and comfortable to wear, they fit into my everyday life. So glad I found out about these, they're a godsend!!!"

Life Saver!

"This has a been a absolute life saver for me I have a rare muscle disease and in the last 5 weeks I have been disabled and mostly stuck in bed! With the aid of this and the ease of which it is used I may have experienced more unpleasantness but it has helped me so much I am now able to make it to the toilet not just in time! But in good time! I can't say thankyou enough I just wish I had been able to upload a video hopefully at some time in the near future get a chance to. Once again thankyou x"

Help With My Pelvic Floor

"After using this machine for 4 weeks, it helped me increase the strength of my pelvic floor, as after my first child born, i encountered the light incontinence and lost the strength on holding my pelvic floor, and now i feel more comfortable even not wear any pad when i go out, but sometimes i still have accident, so i would keep trying to use this machine until my problem is totally resolved. And their battery is really good, after one charge, i can use it for 14 days without charging it. In term of the short size, i was a bit confusing at the beginning, but size 5 is size 12 in UK size, and you must get the right size to make this machine work perfectly."